Shorty Joe: An Autobiography by Joe Quartuccio w/ Steve Hathaway
Shorty Joe Quartuccio led a remarkable life. Besides years as a country
music disc jockey, singer, songwriter, band leader, he worked w/ many
test pilots and astronauts as part of his work with N.A.S.A. and it's
predecessor N.A.C.A. The book has many rare & previously unpublished photographs highlighting his life & career and the many country stars he hosted and backed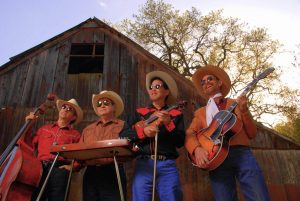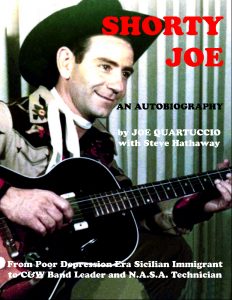 The Saddle Cats are a Western Swing pocket orchestra that is enlivening Cowboy & Western Music with infectious joy and high spirits. With a repertoire that draws from the rich tapestry of traditional American music, this four-piece ensemble embraces the worlds of swing, cowboy ballads, blues, Tin Pan Alley, honky-tonk, string band music, polka and just about any traditional style under the sun.
The Saddle Cats have at their heart the suave, elegant artistry of Bobby Black,
whose steel guitar poetics have inspired generations of musicians and fans. A
revered figure in the music world whose roots go straight back to the honky-tonk era
of Hank Williams and Lefty Frizell, Bobby was a key figure in the rediscovery of
Western Swing in the 1960s and '70s. His membership in such bands as Commander Cody
and his Lost Planet Airmen and Asleep at the Wheel was decisive in introducing the
sound of Western Swing to a new generation of listeners. Bobby is joined by fiddler
and vocalist Richard Chon (Dan Hicks and the Hot Licks, the Sons of the San Joaquin
and a veteran of the Bakersfield honky tonk scene). Together, Bobby and Richard form
the nucleus of a Western Swing combo that uncannily recreates the textures and drive
of the Western Swing bands of the golden era.
The driving rhythm of guitarist Hank Maninger and the eloquent, rock-solid
foundations laid by bassist Bing Nathan support and energize this sleek,
silver-toned cowboy outfit, whose repertoire runs from rustic Texas breakdowns to
the sophisticated swing concoctions of Benny Goodman and Count Basie, from the
high-driving California swing of Bob Wills' Tiffany Transcriptions and Tex Williams
to their own stylish originals.