Starting at 2PM Tompkins Square presents folk guitarists Harry Taussig & Max Ochs. They were both featured on a (now vintage) sampler LP, 'Contemporary Guitar – Spring '67', along side John Fahey, Robbie Basho, and Bukka White.
Both were recently "re-discovered" by Tompkins Square in 2005, and have since released 'The Music of Harry Taussig & Max Ochs' featuring newly recorded material, commemorating the 50th
Anniversary of that Takoma sampler.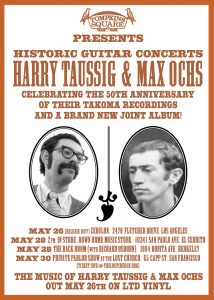 Following at 3:30 PM is Mat Callahan, to talk of his new book, The Explosion of Deferred Dreams: Musical Renaissance and Social Revolution in San Francisco, 1965–1975 and perform related music.  Mat is both a musician and author originally from San Francisco, where he founded Komotion International. He is the author of three books, *Sex, Death & the Angry Young Man*, *Testimony*, and *The Trouble with Music* as well as the editor of *Songs of Freedom: The James Connolly Songbook*. Free admission as is usual.