SATURDAY, August 20th at 2PM. The Rainy Sundays perform a free concert on our humble Down Home stage.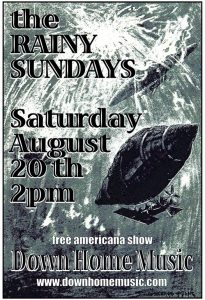 a duo based in San Francisco since 2011.
What makes them different? Quite a few things. Their roots – one of us is from the Midwest US and one is from Britain. Their creativity – they're both composers. They're also singers and instrumentalists. Some of their music is sung only, and some is instrumental. They also perform spoken word pieces too, some with soundscapes. All of this makes for a distinctive mix of sung, instrumental and spoken word pieces.
What genres do they play? Roots music – Americana and European. Traditional and folk, country, blues, jazz. For even more variety, they also throw in some ska, pop and rock. The sum total is fun and oh so groovy.
For samples: https://www.reverbnation.com/therainysundays